The Rhema Foundation Canada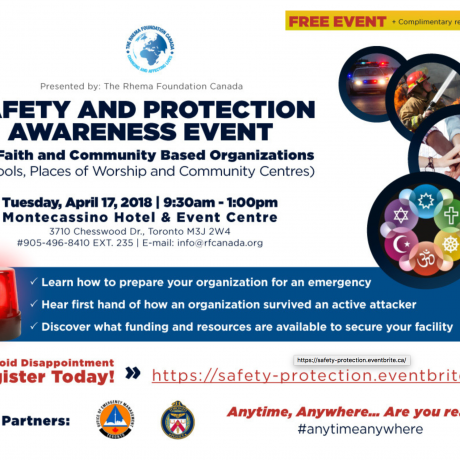 Prepare Today for Tomorrow's Emergencies: A Free Safety & Protection Event
While most organizations have a plan in place for a fire or a power outage, few prepare for incidents of hate crime and other targeted acts of violence. Though such incidents are rare, it never hurts to be prepared. To help community and faith-based organizations in Toronto protect themselves against such senseless acts of violence, The Rhema Foundation Canada is hosting a free Safety & Protection Event.
Held in partnership with Toronto's Office of Emergency Management and Toronto Police Service, the event will take place on April 17th, 2018. Open to organizations from across the city, the event will serve to educate, inspire, and connect attendees. From thought-provoking guest speakers, to lively discussions, the event will provide an unprecedented opportunity for community and faith-based organizations to freely discuss their questions and concerns.
Education
First and foremost, the event will serve as an educational forum. This means that attendees will learn how to prepare for situations involving an active attacker. Additionally, attendees will also learn about funding and resources available to help secure their facilities.
Awareness
In addition to hearing from Toronto paramedics, police officers, and firefighters, attendees will also hear from inspiring guest speakers. One of these speakers is David Colbath, a man who survived the First Baptist Church shooting in Sutherland Springs, Texas — the deadliest mass shooting in Texas history. Colbath will not only share how he survived the attack, but also his recovery from his injuries. Additionally, a victim of the Quebec City mosque shooting will share his experience surviving an act of extreme violence.
Connection
Perhaps the most important part of the Safety & Protection Event is the opportunity for community and faith-based organizations to connect. By sharing how they prepare for emergencies, these organizations can learn useful strategies and best practices.
To secure your spot at the exclusive event, please register online. Sponsorship opportunities are also available at info@rfcanada.org.