The Rhema Foundation Canada
Increasing Food Literacy in Downsview Park: A Community Kitchen Project
Toronto's Downsview-Roding neighbourhood has seen a lot of changes over the years. A former military base with sprawling green spaces and plenty of unused land, the area has become a hotspot for new development.
Despite projections of growth and exciting new developments, the neighbourhood continues to struggle with some fundamental challenges. These challenges include limited access to healthy food options and insufficient nutrition-focused programming. And as The Rhema Foundation Canada has seen firsthand, it's the long-time residents of the Downsview-Roding neighbourhood that struggle because of this lack of food literacy.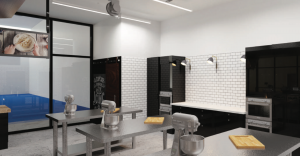 To combat issues of food literacy and tackle the poverty that stems from it, The Rhema Foundation Canada has embarked on an exciting new project to build a community kitchen and food hub for the Downsview-Roding neighbourhood. In part, the community kitchen will help residents access healthy food options and community programming. The kitchen will also help lower the barriers to success for emerging food businesses and drive entrepreneurship.
The Growth of Downsview-Roding
Back in 1995, the former Canadian Forces Base Toronto was closed and divided into two sections: Downsview Park and the Downsview Lands. In the years that followed, a new vision for Downsview Park began to unfold. The idea was to turn the Downsview Park area into a new urban mixed-use community. In addition to sprawling green space and growing urban agriculture, there are also plans to redevelop the land to support about 10,000 residential units housing an estimated 22,000 people.
Recently, the Downsview-Roding area has received even greater attention due to the new Downsview TTC and GO stations. The area is also home to York University and Centennial College campuses, and Humber River Hospital, making it one of Toronto's most buzzworthy neighbourhoods.
Current Challenges and Barriers to Food Security
But while the Downsview-Roding neighbourhood has experienced impressive growth in recent years, the community is facing some major challenges.
Many families in the Downsview-Roding neighbourhood are struggling. As Statistics Canada has found, families in the community spend an average of 45.2% to 48% of their household income on housing costs. This leaves little money left over for essentials such as healthy food. Unsurprisingly, rates of child poverty and the use of food banks are disproportionately high in the Downsview-Roding community, as compared to other parts of Toronto. Food bank usage among seniors in the area is particularly concerning. As the foundation has observed, current food delivery programs are limited to frozen or highly processed foods delivered via a drop-and-go service delivery model.
This data reveals that there is a clear need for greater social resources in the Downsview-Roding neighbourhood in order to meet basic needs surrounding food access and food literacy.
The Vision
In response to this need, The Rhema Foundation Canada has launched the Downsview Community Kitchen project. The vision is to create a 1,600 square foot kitchen and lounge space. The space will serve as a community food hub and social enterprise. The kitchen will be able to accommodate food service training, cooking classes, and food processing projects. As for the lounge space, there will be a twelve-seat community table for social dining. The lounge area will also be available to rent for dining experiences and community gatherings.

To fulfill the needs of the community, the Downsview Community Kitchen will support four types of programming:
Entrepreneurship
There will be a commercial kitchen space available to local entrepreneurs. The space can be used to support the launch of new food businesses and products. There will also be space for local farmers and food entrepreneurs to sell produce and other food products.
Food Skills
The kitchen will provide education and programming for diverse age groups. These food skills will serve as a vehicle to increase autonomy in vulnerable populations.
Food & Nutrition Literacy
Various types of food and nutrition programming will help to improve food literacy among individuals and families in the community. There will be a significant emphasis on food programming tailored to vulnerable populations, such as children, youth, seniors, and men.
Community Health
The community kitchen and lounge space will support employment skills, and community building by serving as an affordable space for teaching.

The project falls in line with the foundation's social mission of increasing the financial stability, autonomy, and health and wellness of the individuals and families in the Downsview-Roding neighbourhood. In short, the foundation believes that food and nutrition can serve as the vehicle to increase community capacity and relationships.
How You Can Help
At this time, The Rhema Foundation Canada currently has resources to oversee the community kitchen project. First and foremost, a location for the kitchen has been secured within Downsview Park. Additionally, day-to-day operations will be managed by a staff coordinator.
The next step is to break ground on the community kitchen and this is where people like you come in. With the support of our partner organizations and individual donors such as yourself, we can take the community kitchen project from idea to reality. Your donations will be used to support the early construction of the kitchen. Donations will also help us begin developing programming with our community partners in Downsview Park.
To donate today, please use this link. To learn more about our community kitchen project, contact us at info@rfcanada.org.