The Rhema Foundation Canada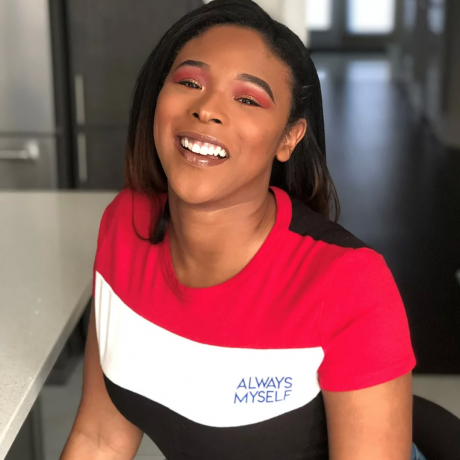 Black History Month: Our Interview With Blogger Hillaree Alliman
In December 1995, Canada's House of Commons officially recognized February as Black History Month in Canada. This historic occasion came out of a motion introduced by the Honourable Jean Augustine, the first Black Canadian woman elected to Parliament.
Since then, Canadians have marked every February by recognizing, honouring, and celebrating the legacy of Black Canadians and their communities.
In line with this year's theme of "The Future is Now," The Rhema Foundation Canada will be marking Black History Month by highlighting the transformative work that Black Canadians are doing right now, and how they are making change that will impact generations to come. 
The first person we're celebrating in our Black History Month series is Toronto blogger Hillaree Alliman. Hillaree founded the blog The Good Life to help people explore Toronto and to ultimately live their best lives.
To learn more about Hillaree's blog and her new Black History Month series, The Rhema Foundation Canada's Executive Director G. Lin Ferguson chatted with Hillaree.
This interview has been lightly edited for clarity.
Lin:
Hillaree, it's so great to have you with us.
Hillaree:
Thanks for having me!
Lin:
Now can you tell our readers about yourself and your blog?
Hillaree:
Sure! So I'm Hillaree and I'm in my mid-20s, and I love trying new restaurants, new foods, traveling, and knowing everything that's going on in the city.
I created this blog to help everyone else in the city know what's going on and all the fun things they can do, as well as educate my readers on some very important topics.
Lin:
That's awesome! And how would you describe your blogging style?
Hillaree:
I would say it's more of a laid back, relatable blog. I don't really use too much jargon or anything. They're all very short reads; about two minutes. It's like I'm having a conversation with the reader.
Lin:
Well, speaking of conversations, there are lots of conversations happening for Black History Month. Please tell us about the blogs you wrote for Black History Month.
Hillaree:
Yes, so I have a few blog posts directly relating to the Black community. I have one where I highlight Black businesses for a variety of needs. I also have a blog post where I share some of the experiences that Black people in our local community have experienced, and the racism that they've faced. 
I also recently started a new series where I start to uncover the history behind certain stigmas within the Black community. My latest post in the series talks about why many Black people don't swim. The post is titled: "I'm Black Every Month: Why Black People Wear Socks & Sandals to the Beach."
Lin:
Awesome! We can't wait to dive into that read – no pun intended!
Now if someone is interested in getting into blogging, what advice would you give them?
Hillaree:
Start with a list of ideas and just go for it! I started my own blog with a whole bunch of different ideas I wanted to do, and I picked one that I wanted to start off with. I wrote it out and sent it to my friends and my family. I read it to them and let them read it, and from there I had the confidence to actually post and publish the blog for other people to read. And the rest is history!
Lin:
That's awesome! And Hillaree, what is your dream for your blog? Where would you like your blog to take you or take your readers?
Hillaree:
That's a really good question! I really would like The Good Life to be worldwide and I think if it could turn into some sort of brand, that would be great. I want it to be a great motto for people to live by – just to have a good life. If my readers can read my posts and find something that makes their life good, makes them feel better, or helps them through something, then I know my blog has made the intended impact.
Lin:
Fantastic! And our last question is, where can our readers find your blog?
Hillaree:
We are at www.tgoodlife.com/ 
Lin:
Thanks so much, Hillaree for joining us. We look forward to reading more from your blog!