The Rhema Foundation Canada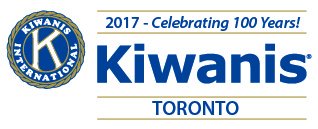 10 Years of Change: Kiwanis Toronto's Centennial Grant
For the past century, Kiwanis Toronto has been tirelessly working to improve the lives of young people from across the city. As one of the first clubs in Canada, the esteemed organization has a long and impressive history of working alongside local charities to create positive change in the community.
To celebrate its 100th year, Kiwanis Toronto set out to award 100 'Centennial Grants' to 100 different local charities working to support children and youth. As Hugh Williams, the club's Executive Director explains, "The club wanted to do something special this year and by supporting 100 different charities and programs in this way, we're ensuring impact throughout the city."
One of the lucky recipients of a Centennial Grant was The Rhema Foundation Canada, which has long been committed to improving the lives of children and youth in the community. As one of the winners of the Centennial Grant, The Rhema Foundation Canada was awarded $2,500 to fund its growing youth engagement program, which supports children and youth (aged 24 and younger) living in the city of Toronto. With the funds from the grant, The Rhema Foundation Canada will be able to move forward with its efforts to build a community kitchen that will serve up nutritious snacks and meals for local youth. More specifically, the money will allow the organization to purchase a brand-new stove that will bring the community kitchen to life.
With this grant also comes an invitation to the Kiwanis Toronto Centennial Gala, which is set to take place on September 21st, 2017, at Toronto's Old Mill. With a lineup that includes plenty of food, entertainment and notable guests, the Centennial Gala will recognize a diverse group of organizations from across the city that are working to better the lives of children and youth. During the gala, Kiwanis Toronto will also launch the 'Kiwanis Toronto in 100 Years' book, honor special guest Senator Art Eggleton, and announce the highly anticipated winner of the $40,000 Community Achievement Award
To thank Kiwanis Toronto for graciously recognizing the work of The Rhema Foundation Canada, the organization will be placing a plaque with the organization's logo in the new community kitchen. The plaque will not only recognize Kiwanis Toronto for its generous donation, but it will also serve as a reminder of the long-standing partnership between the two charities. Indeed, the plaque represents The Rhema Foundation Canada's ongoing work to support another 10 Years of Change in the city of Toronto.